Search results - Puppies for Sale Near Me
Filter results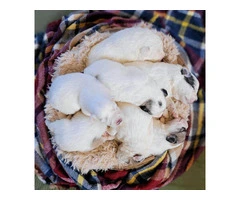 3
Premium
Purebred Great Pyrenees puppies for Sale
Purebred Great Pyrenees puppies, raised on a farm with excellent parents, will be available for new homes on Christmas Eve. They're priced at $450 each, with 6 males and 6 females. Dewclaws have been removed. Located in Cove City near New Bern.
Phoenix
Affordable French Bulldog Puppies for Sale Near Ne
Affordable AKC rare color French Bulldog Puppies available and ready for new homes. Text/Call; 910x803x3537 They are Vet Checked, Potty-trained, Vaccinated and Dewormed, Health Guaranteed, have Excellent Temperament and will come with valid Pedigree and Full AKC registration papers. Very playful and adorable. Friendly, well socialized with pets and kids. Shi...
Providence
8 weeks old Shih Tzu puppy for sale
Beautiful female cinnamon and white Shih Tzu puppy with green eyes she's up-to-date on everything there exists a rehoming fee, we are located near North Kingstown, RI
Local searches that may interest you